Academic School for Undergraduates and Graduates and Third Mission
All the Bachelor's Degree Courses, the Master's Degree Courses and the Single Cycles Degrees offered by Link Campus University are part of the Academic School.
The expression "undergraduate study" identifies the Courses of Studies which can be accessed upon completion of the secondary schools, whereas the expression "graduate study" identifies the Master's Degrees.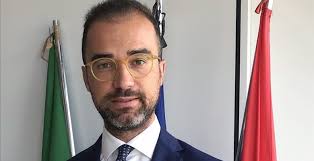 Prof. Carlo Alberto Giusti
President of the School for the Graduate and Undergraduate activities
The President may delegate his duties for the following areas of expertise:
Head of teaching.  Relationships with businesses.
Carlo Alberto Giusti is Full Professor of Private Comparative Law.
He was born in Taranto in 1980. In 2003 he graduated in Law at the University of Bari, where he also obtained a PhD.
He continued his academic training at the University of Molise, where he attained a research grant in commercial law.
Other positions
He was appointed Advisor to the President of the Parliamentary Commission of Inquiry on the Banking and Financial System to the Senate of the Republic.
He was appointed by the Minister of Justice Member of the Ministerial Commission for the Reform of the Notarial Profession  and Member of the Ministerial Commission for the Reform in Arbitration procedures 
He is Member of the Commission of Studies in Corporate Law of the National Council of Notaries, Confindustria's Commission of Studies on Corporate Law, the Commission of Studies on the Jurisdiction of the National Bar Association, and Unioncamenre's Commission of Studies on Arbitration and Mediation.
He is Member of the Association of North America Higher Education International (ANAHEI), della American Society of International Law (ASIL), and the National Association of Comparative Law (AIDC).
He was appointed Legal Advisor to the Minister of Justice, and Head of Technical Secretariat of the Vice President of the 
The Supreme Judicial Council.