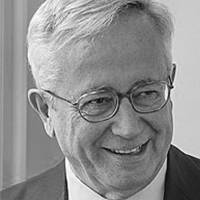 Adjunct Professor
Link Campus University - Rome
Giulio Tremonti is an academic since 1974 and he was a member of the teaching staff for the Faculty of Law at the Universities of Macerata, Padua and Pavia
He is a practising lawyer in the Supreme Court.
He authored several publications, including: "Rinascimento" (2017) with V. Sgarbi; "Mundus Furiosus" (2016); "Bugie e Verità- La ragione dei popoli" (2014); "Uscita di Sicurezza" (2012); "La paura e la speranza" (2008); "Rischi fatali" (2005); "Lo Stato criminogeno" (1997); "Il fantasma della povertà" (1995). 
He is the author, with G. Vitaletti of : "Le cento tasse degli italiani" (1986); "La fiera delle tasse" (1991); "Il federalismo fiscale" (1994). He is the author, with S. Cassese, F. Galgano and T. Treu of: "Nazioni senza ricchezza, ricchezze senza nazione" (1993).
Giulio Tremonti was Visiting Professor  at the Institute of Comparative Law, Oxford University.
He participated in various debates and has delivered lectures in Italy and abroad: Oxford Union Society; 
Cambridge Union Society; Humboldt Universität; Chatham House; Freiburg Universität - Walter Eucken-Vorlesung; Yale University - School of Law; Herzliya Conference; Central School of the Chinese Communist Party.
Between 1984 and 1994, when he started his political activity, he became a columnist for the daily newspaper  "Corriere della Sera".
He is co-director of the "Rivista di diritto finanziario e scienza delle finanze".
He is a member of the Lombard Institute Academy of Sciences and Arts, for the area of Moral Science
POLITICAL ACTIVITY
He is a member of Italian Parliament since 1994. Currently, he is Senator of the Republic, Foreign Affairs Commission.
Giulio Tremonti was Vice-President of the Council of Ministers, Minister of Finance, Minister of Economics and Finance, Vice-President of the Chamber of Deputies.
---
OFFICE HOURS
The professor is available to receive the students at the end of the lessons. However, during the periods of suspension of the lessons, the students may also request an appointment by email (Tuesday 12.00 - 13.00).